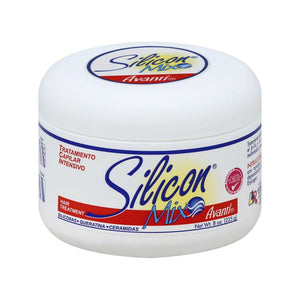 Silicon Mix Avanti Hair Treatment 8oz
Intensive Hydrating Treatment to restore the health, shine, and softness of dry, damaged and weak hair.

Deep hydrating action for all hair types including natural or processed hair.

Keratin and Ceramides to leave your hair silky smooth while restoring its natural shine.

Best results can be expected if used with Silicon Mix Shampoo and Can be followed with Silicon Mix Intensive Leave-in Liso Sedoso during the drying process for an even better finish.

Great detangling action and has Proven results on extensions, weaves, and wigs.
---