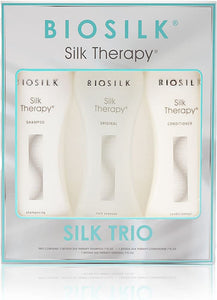 Biosilk Silk Therapy Trio
BioSilk Silk Therapy System nourishes normal to dry hair and leaves it soft, shiny and looking luxurious. It is ideal for all hair types, leaving it healthy and manageable. This is the perfect product for anyone who has experienced dry, damaged hair and is looking for the solution. This three-item set will show you almost immediate results with a shampoo that cleanses without damaging, a conditioner that adds moisture and health to dry and unhealthy hair, and a leave-in treatment that will work wonders assisting your hair in becoming beautiful once more. Each of these products are small enough to make storage between use extremely simple and the products are all very easy to use!

BioSilk Silk Therapy Original 12 fl. oz. BioSilk Silk Therapy Original is a weightless leave-in silk replenishing and reconstructing treatment that helps repair, smooth and protect all hair types.
Fills voids in cuticle to create smooth hair
Aids in preventing split ends
Provides incredible shine
BioSilk Silk Therapy Shampoo 12 fl. oz.BioSilk® Silk Therapy® Shampoo with botanical extracts and herbs gently cleanses hair and removes build up while leaving hair healthy and manageable. Silk proteins penetrate hair to condition and create incredible shine. Ideal for all hair types.
BioSilk Silk Therapy Conditioner 12 fl. oz.BioSilk Silk Therapy Conditioner is a conditioner with botanical extracts and herbs that replenishes moisture. Silk proteins penetrate hair to condition and create incredible shine. UV filters protect hair from damaging UVA/UVB
---