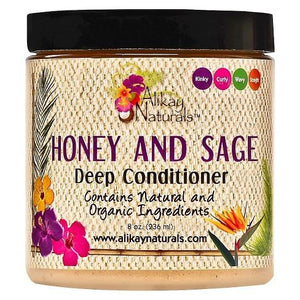 Alikay Naturals Honey And Sage Deep Cond 8oz
Honey pulls moisture from the air into hair and locks it into each strand for ultimate moisture replenishment and retention. Penetrates deep into the follicle to nourish and revitalize weak, dry, thirsty hair, using benefits of natural ingredients such as Babassu and Sage, while Extra Virgin Olive Oil adds shine and softness. Smells like yummy honey and feels fabulous. Your Hair Will Love it!
How to Use:
Apply to wet hair. Part hair into 2-4 sections, finger comb hair to remove tangles. Apply product to your hair paying extra attention to your ends. Massage conditioner into hair evenly from root to tips. Be sure product covers all your hair. Cover with a plastic conditioning cap and let product sit for 30 minutes in hair without heat, or get maximum moisturizing benefits either sitting underneath a hooded dryer or hair steamer for 20 minutes. Rinse, style as usual.
Note:
This product can be used as a hair mask (before washing hair) or hair treatment (after washing hair).
---